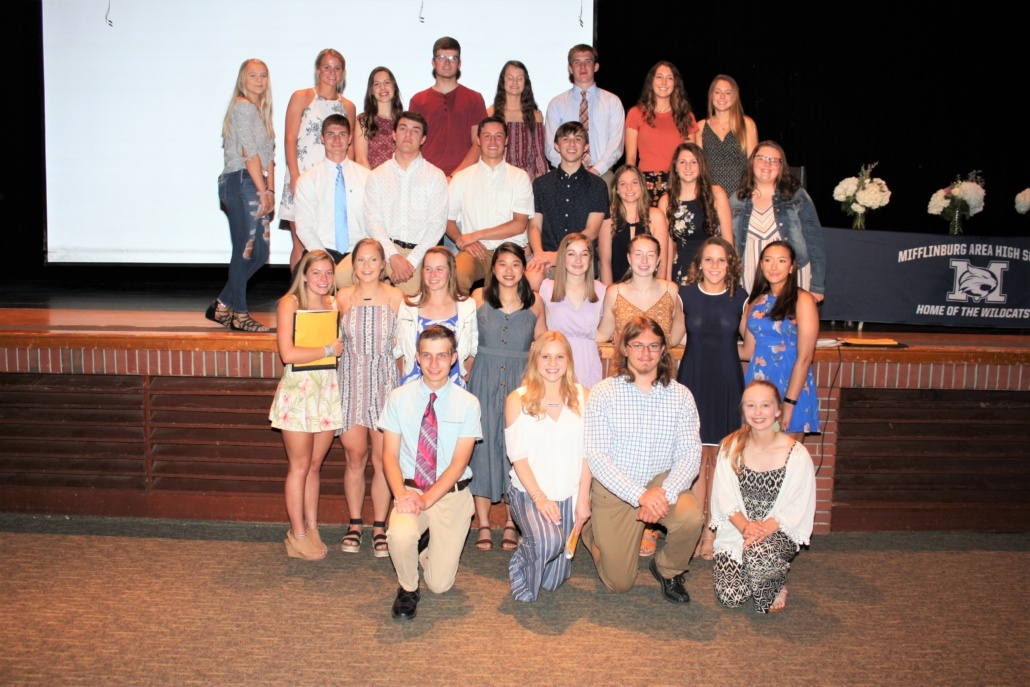 For immediate release
Mifflinburg – The Mifflinburg Area Community Scholarship Trust, Inc. provided $49,000 in scholarships to Mifflinburg Area High School seniors. Twenty-eight members of the senior class were awarded of the scholarships during the Annual Senior Awards night. An additional $6,000 worth of scholarships will be awarded in July to past Mifflinburg graduates who are presently attending college.
A $3,000 Valedictorian Scholarship was awarded to Cole Reish. Rebecca Haines received the $2,000 Salutatorian Scholarship. Six additional designated scholarships were awarded by the M.A.C.S.T. These scholarships are awarded based on the criteria set forth by the founding sponsors. Levi Showalter earned both the Mifflinburg FFA Recognition and Spangler Family Penn State College of Agriculture Scholarships. Alexa Hackenburg and Erin Rute each received a Rhoda K. Reidell-Fasano Award. Eric Gessner was awarded the Robert Manotti Sr., Wrestling Award and Molly Kerstetter was presented the Kermit W. & Mary E. Dale & Sons Environmental Conservation Award.
Twenty-two members of the Mifflinburg Area High School Class of 2019 received scholarships ranging from $1,500 to $2,000 from M.A.C.S.T. Inc. funds. Seniors receiving these scholarships were: Anthony Bennage, Dorothy Bollinger, Brianna Doebler, Emaleigh Greb, Reagan Griffith, Riley Griffith, Rebecca Haines, Anna Harter, Julia Hornberger, Isaac Ilgen, Emily Kerstetter, Austin Klose, Vanessa Martin, Megan Reid, Evan Smith, Abigail Snayberger, Kelsey Stafford, Allison Wagner, Hannah Walter, Michael Warren, Olivia Young, and Eric Zimmerman.
Mifflinburg seniors that were awarded scholarships will be attending twenty different institutions of higher education this coming year. They will be majoring in twenty-two different majors with three undecideds at the present time.
The Mifflinburg Area Community Scholarship Trust scholarships are available to any Mifflinburg Area High School senior planning to continue their education at a post-secondary institution. The scholarships are awarded based on application merit, and criteria requested by the sponsors. Individuals interesting in sponsoring or donating to the Mifflinburg Area Community Scholarship Trust, Inc. should contact M.A.C.S.T., Inc. at 1900 Dietrich Road, Mifflinburg, PA or call 570-966-2189. Additional information can be found at www. MACST.org.
Group Photo:
Front Row: Levi Showalter, Olivia Young, Evan Smith, Dorothy Bollinger
Second Row: Alexa Hackenburg, Molly Kerstetter, Rebecca Haines, Emaleigh Greb, Emily Kerstetter, Erin Rute, Abigail Snayberger, Kelsey Stafford
Third Row: Eric Zimmerman, Michael Warren, Anthony Bennage, Isaac Ilgen, Anna Harter, Reagan Griffith, Megan Reid
Fourth Row: Hannah Walter, Vanessa Martin, Allison Wagner, Austin Klose, Julia Hornberger, Cole Reish, Riley Griffith, Brianna Doebler
https://www.macst.org/wp-content/uploads/2016/05/MACST-logo-final_120.png
0
0
MACST
https://www.macst.org/wp-content/uploads/2016/05/MACST-logo-final_120.png
MACST
2019-06-01 18:09:00
2020-08-27 09:16:30
June 2019 News Release